For 35 years, we've served as an established full service moving company in Oklahoma City (OKC). Our fully trained and insured movers are ready to help you relocate from start to finish. Our moving professionals will pack, load, unload and unpack your belongings, so you don't have to! With our main office just 20 minutes away from the OKC, we're very knowledgeable about the area and our team's ready to answer all of your questions about your upcoming move.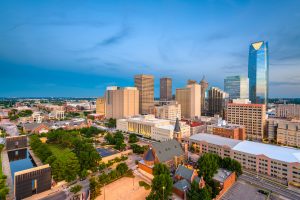 "Labor omnia vincit" – State of Oklahoma official motto
Labor omnia vincit is a Latin phrase meaning "Work conquers all."
Why Oklahoma City?
Oklahoman's know we have great things going on in the Sooner State. It's just a matter of time before the rest of the country catches on. Our low cost of living makes life worth living. In Oklahoma, the value you get for your dollar is more than almost anywhere else in the country.
In OKC, we take pride in being one of the most friendliest cities in America!
According to a study done by Travel+Leisure, OKC ranked No. 5 on its "America's Friendliest Cities" list. According to a survey, OKC ranked as the least rude and snobby city in the U.S.
Do you love nature? Look no further.
With over 200 lakes, Oklahoma has the largest number of lakes created by dams of any state in the United States. Lake Hefner, Lake Stanley Draper and Lake Overholser are all located in OKC. Enjoy a day of paddle boating, jet skiing, sailing and more at one of our beautiful lakes.
Whether you're looking to explore what Oklahoma's nature life has to offer, or a cowboy that loves to rodeo, Oklahoma City has entertainment for you. Check out this short list of OKC "must-visits."
Things To Do
Oklahoma City National Memorial & Museum
Riversport Adventures Sky Trail
The Oklahoma City Museum of Art
We're your local movers!
So, whether you're moving down the street, across the state, to or from Oklahoma City, our team is ready to serve you. For more information about our full service moving company, contact us or give us a call at (405) 350-6333.
We encourage you to request your free moving price today!